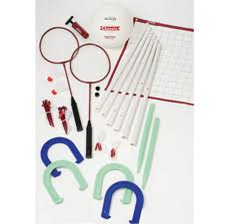 Model No. 20223
Product Features:
Poles: 3/4″ Diameter Hexagon PVC, 5'1″ Height Above Ground.
Net: 18′ x 1 1/2′ Tie-On.
Ball: Vinyl Volleyball with Pump and Inflating Needle.
Rackets: Two Tempered Steel Shafts with Grommets and Molded Grips.
Horseshoes: Two Blue and Two Grey Vinyl.
Stakes: Two Vinyl.
Shuttlecocks: Two Pieces Molded.
Support System: Double Guide Rope System, Tension Clips, Ground Stakes.
Packaged 6 per carton.