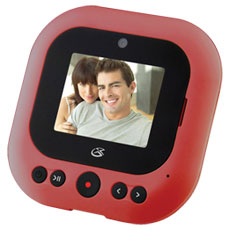 Model No. MV101R
Product Features:
1.8″ LCD display.

0.3MP Camera.

Digital video: AVI.

Resolution: 128 x 160.

Records 30 second video messages.

Built-in microphone.

Mini-USB port for battery recharge.

SD memory card reader: supports up to 16GB capacity SD card.

Built-in speaker.

DC battery power: built-in rechargeable lithium polymer battery.

Battery life: ~1 hour recording, -~50 minutes playback. 

Includes M

ini-USB to USB cable, warranty, user guide.

Packaged 4 to a carton.