DISCOVER THE OMEGA DIFFERENCE
Omega Connections, Inc. provides high quality parts and equipment both regionally and nationally to the Oil and Gas industry.  Our supplier relationships enable us to offer affordable connections parts and metering pumps that are specifically developed and engineered for performance with various chemical applications.  
Our team is dedicated to delivering innovative solutions for each and every one of our clients projects. We are devoted to personalized customer service with character and integrity. As professional procurers, our focus is on turn-key execution, which includes:
Understanding processes within supply chains
Procurement
Retail operations
Warehousing parts domestically for immediate turnaround
Strong and accomplished customer service support
Loyalty benefits
IT systems and inventory management capabilities
General accounting processes
Call us today to learn more about how Omega Connections, Inc. can offer your company practical solutions with performance oil and gas parts!
---
Parts We Offer
OG01  Site Glass –  Our Site Glasses are .316 stainless steel and have a proven engineering that ensures reliable indication and unsurpassed service life. These stainless steel and glass tube flow meters offer an easy-to-read premium glass, making it the ideal choice for chemical products and tanks.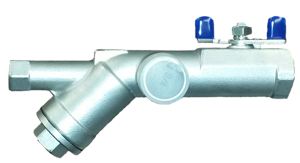 OG02  Y-Strainer Assembly – The tooled heat and chemical resistant Y-Strainer Assembly is a high quality assembly that has no welds which prevents leaks from joint assemblies and unreliable welding methods. This product has innovated the antiquated 3-piece system " Y-Strainer, T-Adapter and Ball Valve" in the chemical tank industry.  Made from .316 stainless steel this product offers a one piece, no weld product.

OG03  InLine Check Valve – This product is manufactured for high quality performance and offers an inexpensive yet effective solution to controlling back flow in high and low pressure fluid systems. Made from high quality .316 stainless steel, this product is rated up to 6000 PSI.

OG 07  3/4 Bulk Head Nipples –  This product has been redesigned with a shorter 3-inch shaft which allows for less stress on Poly or Cross-Link chemical tanks. Made from a no weld tooling system with high quality .316 stainless steel and comes fitted with a proven no leak poly gasket.

OG06B, OG06LH  3/4 Ball Valves –  Our ball valves are made from heavy duty and high quality .316 stainless steel.  These one way flow ball valves are rated (psi) 1000 WOG and 150 (psi).

OG18  3/4 to 1/4 Reducer 90 Degree – The 90-degree reducer fittings have been manufactured with high quality .316 stainless steel.  The innovated Hex makes for friendly in field assembly. Rated 150 (psi).

OG09, OG10, OG11 Heavy Reducer Fitting – Made of high quality .316 stainless steel. These fitting are available in 1/2 X 1/4, 3/4 X 1/4 and 1 X 1/4.  Pressure is 3000 (psi) with 3 to 1 safety rating.
OG12, OG13, OG 14 JIC Fittings – High quality .316 stainless steel with a 6000 working psi.  These parts are available in 1/4straights, 90-degree  and Union T.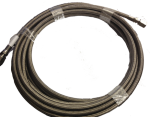 OG15, OG16, OG17 Braided Hoses – This product has been field tested and engineered specifically for the chemical applications in the oil and gas industry. Engineered and manufactured from high quality .316 stainless steel braided jacket that protects the teflon flow line and comes with 1/4 female swivel connections. 4 to 1 safety rating. 3000 working (psi) and failure rating 12k. We stock 20ft, 5ft and 3ft. On request we can provide custom lengths.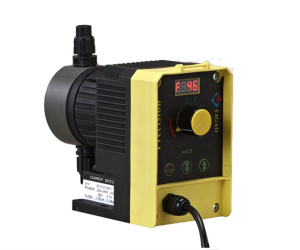 OG20 Iron Work Metering Pumps – These metering pumps are manufactured with high quality electronic parts with longevity technology. We are more than competitive compared to the industry price point! Flow rate is 5 Liters per hour. Working pressure is 5 Bar. The Bar is a unit of measuring pressure. One bar pressure is equal to one atmosphere that is approximately equal to 14.7 pounds per square inch. (5 bar x 14.7 = 73.5 pounds per square inch)